Cable Grip (also known as: Cable nets connector ,cable nets, nets, Cable grip puller ,wire mesh cover, middle anchor net, network, cable network, optical fiber net, ground net set) .
1.With flexibility ,moderate softness,high elasticity,wear resistance,corrosion resistance,closely mesh,the cable can easily set into the open mouth,passing the bend easily,will not hurt the cable,durable.
2.Using Swedish ALURIT hydraulic press to press at the pressure point of cable nets,smooth appearance,large tensile load strength.
3.The material can be hot dip galvanized high strength steel wire rope ,304,316 or 316L.Cable grip using composite weaving method of single strand,double strand,three strands or multi-strand multilayer.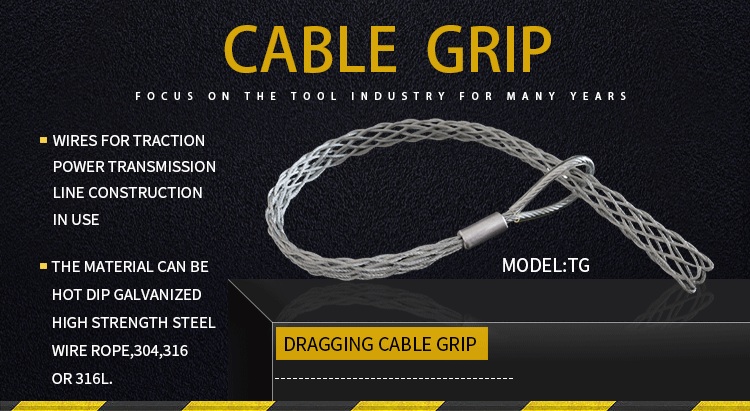 Cable Grip Application:
electric power construction steel connection when all kinds of aluminium conductor and insulation wire, ground wire, optical fiber, optical cable, cable, can pass the all kinds of steel block, with light weight tensile load is big, not line loss, convenient use, is the most ideal tool in electric power construction.
Cable Grip Specifications:
Model

Size Range

(mm)

Mesh Length

(mm)

Total Length

(mm)

Breaking

(KN)

Strength

(KG)

TGK-18

13-18

540

766

19.6

2000

TGK-25

18-25

800

1020

24.5

2500

TGK-37

25-37

850

1140

34.3

3500

TGK-50

37-50

900

1194

58.8

6000

TGK-63

50-63

920

1220

78.4

8000

TGK-75

63-75

920

1220

78.4

8000

TGK-88

75-88

920

1270

88.2

9000

TGK-101

88-101

1100

1420

107.8

11000

TGK-114

101-114

1200

1560

117.6

12000

TGK-127

115-127

1350

1750

132.3

13500

TGK-152

124-152

1500

1960

147

15000

TGK-180

153-180

1850

2300

196

20000

TGK-230

180-230

1950

2300

196

20000

TGK-280

230-280

2000

2350

196

20000

TGK-320

280-320

2200

2450

196

20000